Earlier this year, Lindon Leader was an honoree at the 5th Annual Tribeca Disruptive Innovation Awards in New York City. The Tribeca Disruptive Innovation Awards, inspired by the Harvard Business School professor Clayton M. Christensen, aim to emphasize applications of and advancements in disruptive innovation theory that have extended beyond the original technology and industrial realm.
Directed by Tribeca's Craig Hatkoff, the Tribeca Disruptive Innovation Awards (TDIA) celebrates those whose ideas have broken the mold to create significant impact. Christensen's original Disruptive Innovation Theory explained how simpler, cheaper technologies, products, and services could decimate industry leaders. TDIA showcases applications of disruptive innovation that has spread far beyond the original technological and industrial realms into the fields of healthcare, education, international development, politics and advocacy, media, the arts and entertainment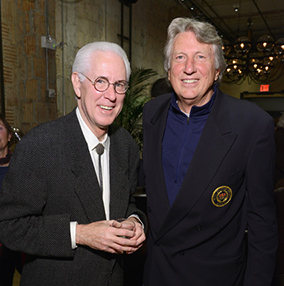 Lindon and the other recipients received ball-pein hammers as the official award nicknamed Maslow's Silver Hammer, in honor of psychologist Abe Maslow. Maslow, whose hierarchy of needs has become part of the disruptive innovation 2.0 framework, is noted for his famous quote "When your only tool is a hammer, every problem starts looking like a nail," an observation that embodies the spirit of the awards.
This year's award winners included, among others, Yancey Strickler, co-founder of Kickstarter; Jon Oringer, founder of Shutterstock; Mary Fisher, AIDS activist; Neil Blumenthal, co-founder of Warby Parker; and Rick Rubin and Kanye West as inventors of the Roland TR-808 Drum Machine. Discover more about the TDIA here.
Lindon has the further distinction of also being named a Fellow of the Disruptor Foundation.